STORIES FROM THE SEA
AT 2021 | 86min | black & white | documentary film

︎︎

Ein Chor, der die Melodie des Mittelmeers singt.
Cine Austriaco

SYNOPSIS

Jola Wieczorek entlockt dem Mittelmeer drei Geschichten. Jessica ist Auszubildende auf einem Frachtschiff, die einzige Frau in der Crew. Die Arbeit ist hart und anstrengend. Die Witwe Amparo begleiten wir auf einer Kreuzfahrt. Alles glitzert und gleißt, sie fügt sich ein in die tanzende Schiffsgesellschaft. Von einem Selbstfindungs-Segeltörn junger Leute aus vier Kontinenten berichtet die dritte Geschichte. Das Mittelmeer, in ruhigen, schwarzweißen Aufnahmen, ist der eigentliche Protagonist. Das unendliche Wasser, der stete Wellengang, der ferne Horizont, die weiße Gischt - sie verknüpfen diese Geschichten und erzählen doch noch viel mehr. (Maria Marchetta) - VIENNALE CATALOGUE TEXT

Every ship is a "reservoir of imagination". This quote by Michel Foucault floats by at one point in Jola Wieczorek's STORIES FROM THE SEA. A ship is a little world in motion. The Joanna Borchard, for example, moves across the Mediterranean sea. Casablanca, Barcelona, Marseille, Haifa. One member of its crew is somehow special: Jessica is a rare female apprentice in a world that can be considered "probably the most chauvinist domain".
That is another quote in STORIES FROM THE SEA, which comes from a woman on another ship. The Viva & Tanimar seems like a vessel for an utopian way of traveling on water. A community of people from all over the world shares a ship and an idea: the Mediterranean as a common space of humanity. Amparo from Valencia, a passenger on the cruise ship Costa Diadema, would probably subscribe to that idea too.
Wieczorek weaves together stories of women at sea, and explores as much a state of place as one of mind. Crossing Stromboli at one point, the sea and the volcano united in the diaphanous black and white imagery of Serafin Spitzer, the movie recalls those times of imagining a life within sublime nature, while Jessica's chores and Amparo's idle days on her cruise are also elevated by the surrounding elements. (Bert Rebhandl) - VIENNALE CATALOGUE TEXT

See also some stories "Behind the film".

FESTIVALS:
World Premiere at Viennale Film Festival (Austria)
International Premiere at Filmfestival Max Ophüls Preis - Max Ophüls Film Preis for "Best Music in a documentary" (Julia Kent)
Asian Premiere at Ulju Mountain Film Festival (Corea)
Diagonale - Festival of Austrian Film (Austria)
Crossing Europe Film Festival - Local Artist Award (Austria)
Ethnocineca - International Documentary Film Festival Vienna (Austria)
IBAFF - Festival Internacional de Cine de Murcia (Spain)
Kunstfilmfest MK - Schwerin (Germany)
SoleLuna Doc Film Festival Palermo - Soundrivemotion Award for Best Music and Sounddesign (Italy)
Cinema in Cantina Treviso (Italy)
Cine de Verano Madrid (Spain)

PRESS:
Cinema Austriaco, 28.10.2021
Cineeuropa, 27.10.2021
FM4, 20.5.22
Der Standard, 18.5.22
Critic.de, 8.4.22



CREDITS
Writer / Director / Producer: Jola Wieczorek
Production: Fahrenheit Films
Director of Photography: Serafin Spitzer
Film Editing: Rubén Rocha
Consulting Editors: Niels Pagh Andersen, Anne Fabini
Line Producer: Hanne Lassl
Sound: Eva Hausberger, Nora Czamler, Benedikt Palier
Sound Design: Nora Czamler
Sound Mixing: Bernhard Maisch / Tremens Film Soundstudios
Composer: Julia Kent
Artwork & Title Design: Jordi Oms
Very Special Thanks: Freibeuter Film

FACTS
Running Time: 86min
Original Language: German, English, Tagalog, Spanish, Italian
Subtitles: English, German
Shooting location: Mediterranean Sea
Shooting format: 3K, black and white
Screening format: DCP
Sound format: Dolby Surround 5.1
Aspect ratio: 1:1,85

SALES/DISTRIBUTION:
Distribution AT:
Stadtkino Filmverleih
Festival Sales:
Sixpack films
FESTIVALS:
Viennale International Film Festival 2021 - World Premiere
WITH THE SUPPORT OF
Bundeskanzleramt für Kunst und Kultur, Land Oberösterreich
THE FILM WAS DEVELOPED IN THE FRAMEWORK OF
Start-Stipendium des Bundeskanzleramtes für Filmkunst
East Doc Platform / Institute of Documentary Films
Rough Cut Service
ORIGINAL SOUNDTRACK BY JULIA KENT:
DAYS YET UNKNOWN
(Dni których jeszcze nie znamy)
AT 2024 | approx. 90min | color | documentary film in developement


SYNOPSIS

My family and I immigrated from Poland to Austria in 1989. Like a patchwork, I weave in DAYS YET UNKNOWN conversations, letters, staged scenes, archive and my own voice-over into a film essay that talks about the process of remembering, the effects of migration and finally the Polish diaspora.

CREDITS

Writer / Director: Jola Wieczorek
Production: Fahrenheit Films e.U.
Producer: Jola Wieczorek
Dramaturgy: Nina Kusturica
Camera: Serafin Spitzer, Rubén Rocha, Jola Wieczorek
Line producer: Hanne Lassl
Production Assistant: Marcin Ratajczak

SUPPORTED BY:
CHANTAL AKERMAN, UN RECUERDO
ES 2016 | 25min | collective film

An initiative of Mostra Internacional de Films de Dones de Barcelona.

SYNOPSIS
In the aftermath of the death of the filmmaker Chantal Akerman on October 5th, 2015 ten directors remember, rethink and reoccupy in their own way the imagination of the Belgian director. A small collective tribute from Barcelona and Iruña, made with love.

DIRECTORS
Blanca A. Mató, Maddi Barber, Mar Cianuro, Alba Cros, Ariadna Guiteras, Xian Gómez-Díay, Irati Gorostidi Agirretxe, Cristina Pastrana, Francina Ribes, Jola Wieczorek

STREAM
You can stream the full version of Akerman, un recuerdo on Filmin.


Chantal Akerman, un record - News from home from MostraFilmsDones on Vimeo.
O QUE RESTA

PT/AT 2015 | 16mm | 39 min | documentary

O que resta is a dream. A barely 40-minute, dusky dream: the kind that you have no idea of who or what you were in it when you describe it later. Were you the one who was looking? Or the person being looked at? Were you the hearing, movement, breathing? After all, you were there! And while you recall the emotion felt in the dream clearer and clearer, the concrete elements slip away. The body and subjects, it seems, were only forced in place anyway. Spreading out in the empty space behind: affect.

Jola Wieczorek's film O que resta comprises three acts: in the first, the picture remains black while a voice reads. A son out in the field writes to his mother, fearful that he will not return home. The camera pans, while further letters follow, about the polished floors of an old apartment in Lisbon. The movement is oriented backward, a receding, perhaps a departure from these heavily memory-loaden walls with their copper etchings and photographs. In the second act, an elderly woman prepares for a visit. Her movements are routine and weary, she's done them a thousand times: putting out the coffee pot, smoothing the bed cover. What would the cover und kettle be without her hand? In the third act, the future of the second becomes a certainty: the movers come and marks remain from cupboards that have been moved away from the wall. A young man writes from England. His first journey abroad, he is excited: girls wear short bathing suits.

Who are you in this cinematic dream situated in multiple times? The boy, the girl, the elderly woman who once received the letter? Or the young couple with the child whom the real-estate agent shows through the apartment? What remains is a film image of empty rooms, sunlit for the first time: and a final, mechanical pan of the camera to a framed picture that no longer hangs on the wall.
(Maya McKechneay / Translation: Lisa Rosenblatt)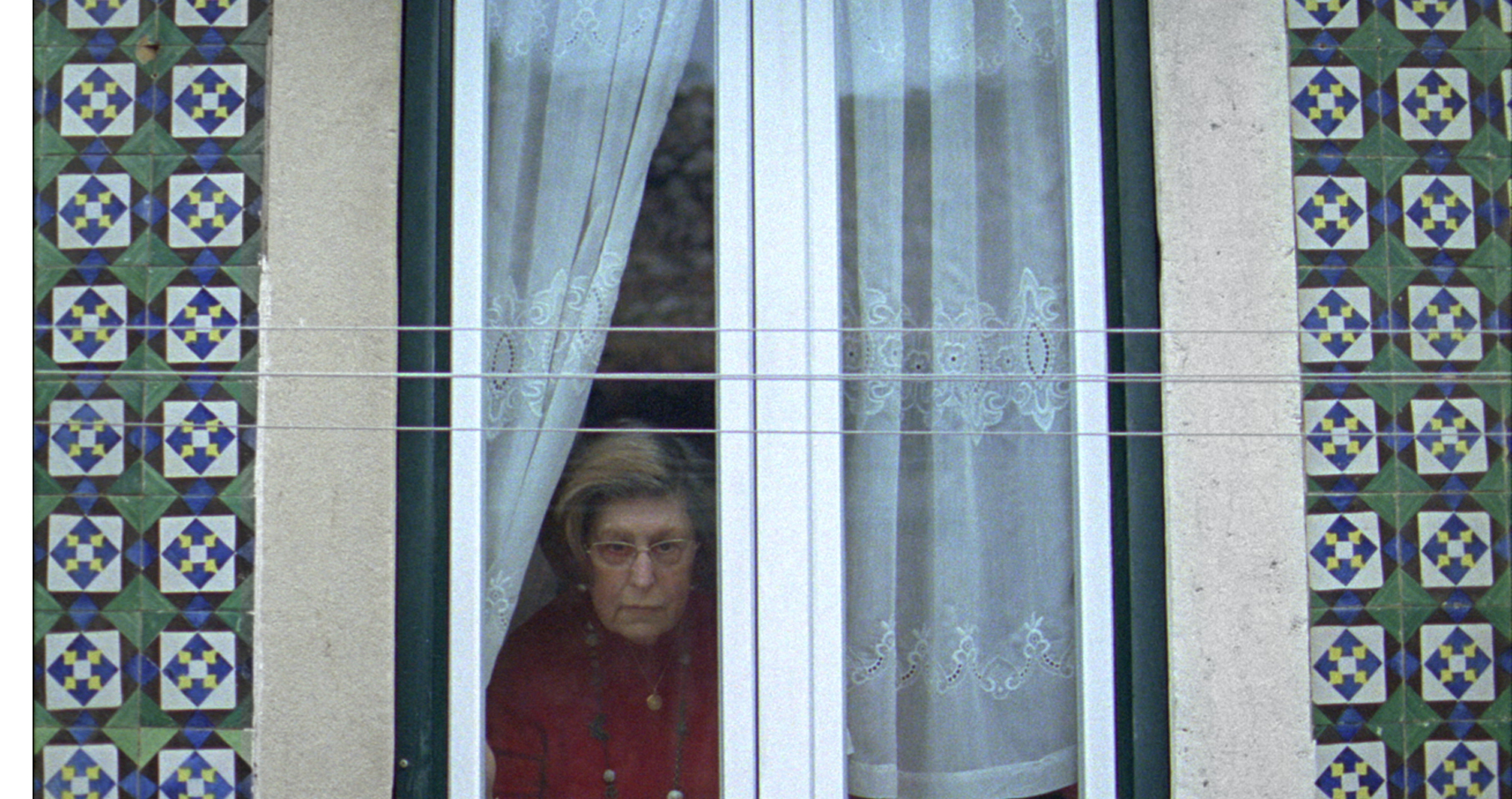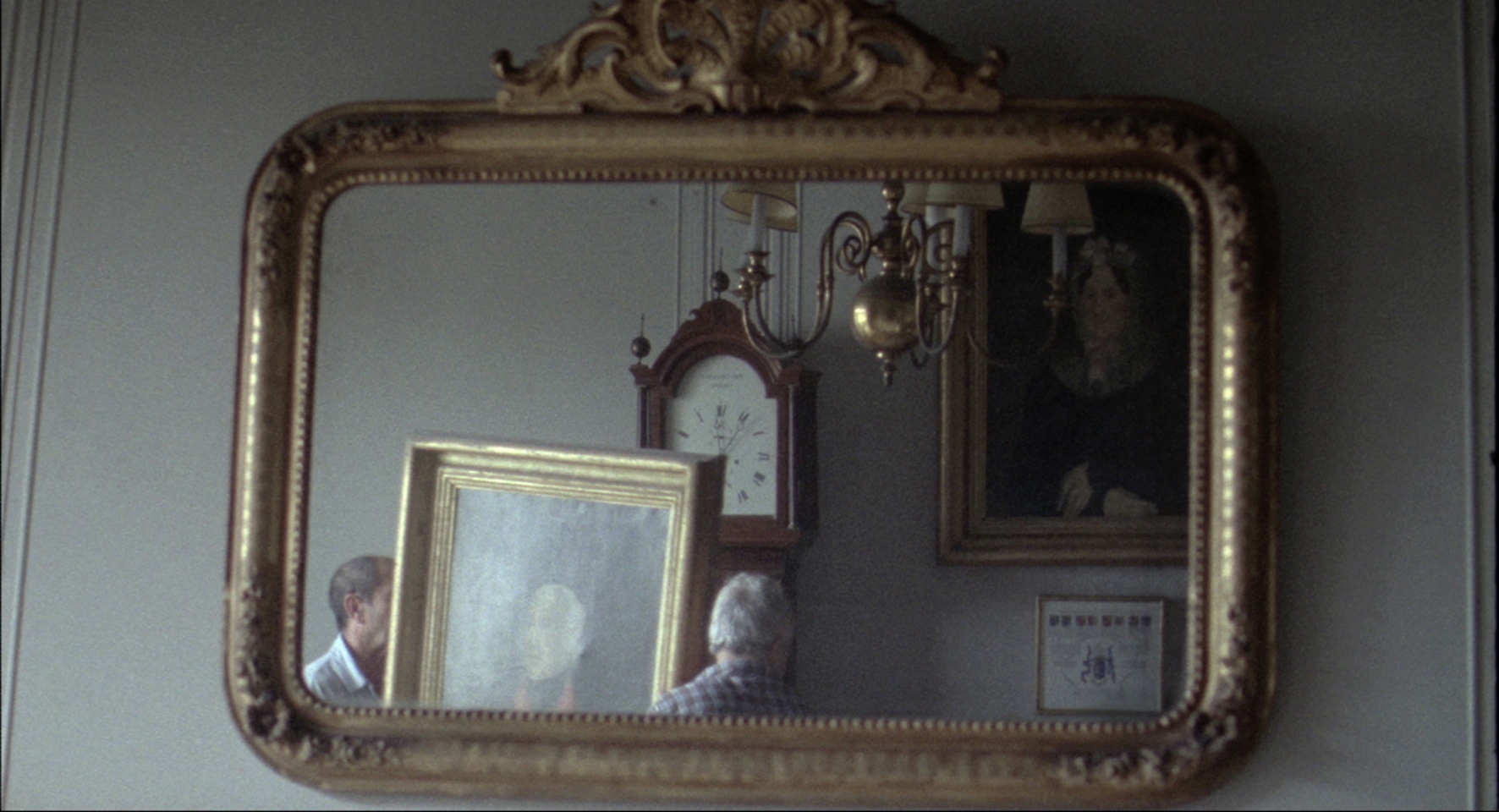 CREDITS
Director & Producer: Jola Wieczorek
Produktion: DocNomads
Director of photography: Rita Laranjeira
Writer: Jola Wieczorek, Margarida Cardoso
Tutor: Margarida Cardoso
Line Producer: Angela Sequeira
Production Assistant: Silvia Coelho
Camera Assistant: Soraia Rego, Miguel Reis, Gonçalo Dias, Joana Magalhães
Steadycam: Samuel Tavares
Editing: Jola Wieczorek
Color Correction: Marco Amaral
Visual Effects: Rui Braz, Diana Pacheco
Direct Sound: José Sequeira, Asia Dér, Luis Luz, Jola Wieczorek
Sound design and mixing: Júlio Pereira
Poster Design: Fatima Moreno

DISTRIBUTION
Sixpack Film

FESTIVALS+SCREENINGS
68th Locarno Film Festival
Diagonale
Crossing Europe
Taiwan International Documentary Film Festival
Doclisboa
Framout, Vienna
4x2 Dokumentarfilmtage IV, Vienna
Österreichische Kurzfilmschau 2016
IIFF - International Intangible Heritage Film Festival
dot dot dot short film festival, Vienna
Curt'Arruda Film Festival

NOMINATIONS
Nomination Silver Eye Award at Jihlava International Documentary Film Festival, 2015
Nomination for the Prémio Sophia Estudante by the Academia Portuguesa de Cinema.

PRESS
Der Standard, 19th of March 2015
indieWIRE, 6th of November 2015

LIST DO POLSKI
BE/AT 2015 | Super 8 + HD | 9 min | short documentary

SYNOPSIS
Triggered by the large number of Polish people living in Brussels, I question my identity and write a letter to my Polish alter ego.
"List do Polski / Letter to Poland" is a journey back to childhood – to Poland – and the search for an answer to the question: What would be, if we would have never migrated? Who would I be then?
Looking for an answer I discover my own stereotypes against Poland.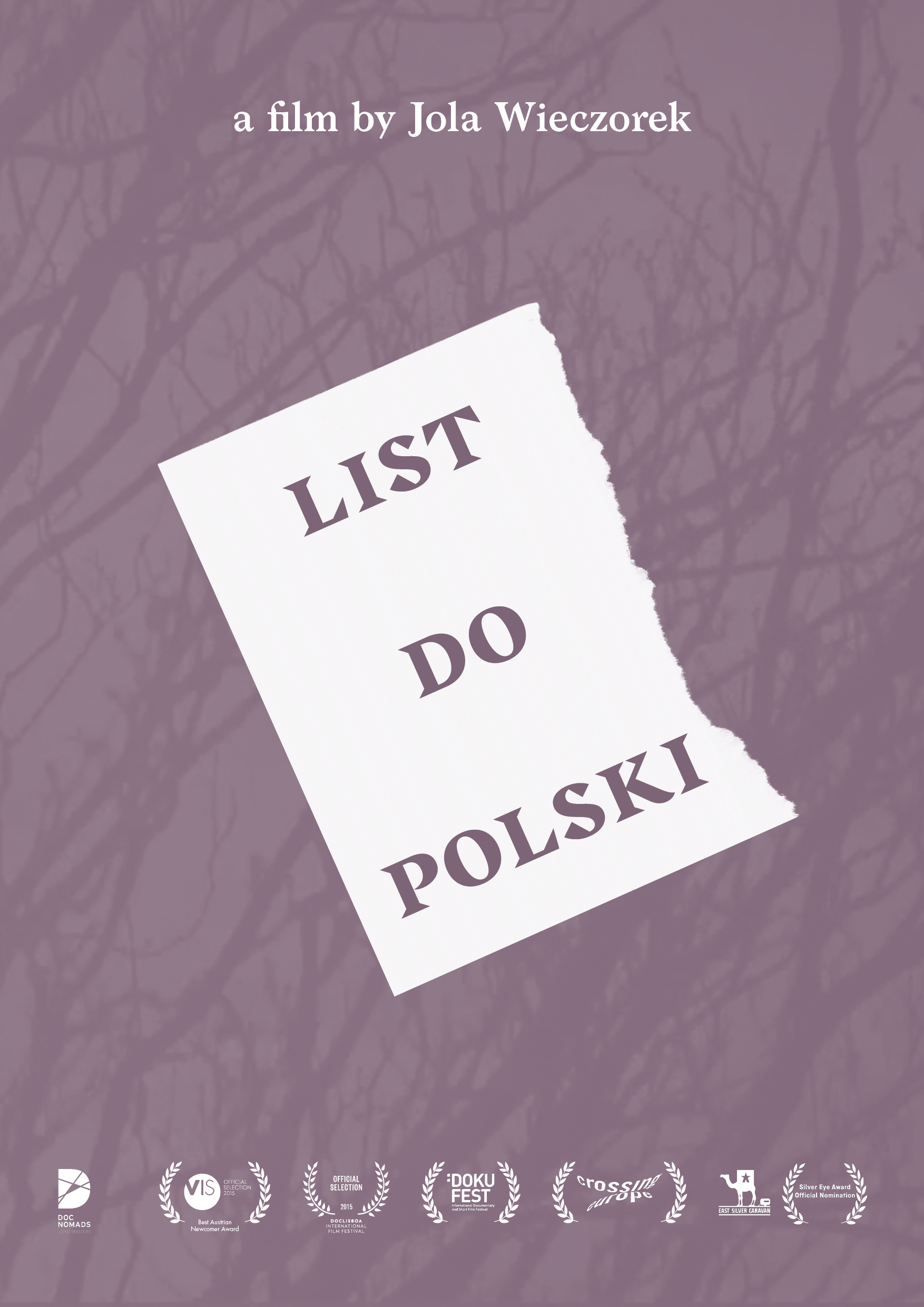 STREAM
You can stream and watch LIST DO POLSKI on the online channel Doc Alliance.

FESTIVALS+SCREENINGS
Crossing Europe, Linz 2015 (AUSTRIA)
Vienna Independent Shorts, Vienna 2015 (AUSTRIA)
Dokufest, 2015 (KOSOVO)
Doclisboa, Lisbon 2015 (PORTUGAL)
Balkan Beyond Borders, Thessaloniki 2015 (GREECE)
Fluchtfilmtage, Vienna 2015 (AUSTRIA)
Club der polnischen Versager, Berlin, 2015 (GERMANY)
Busan International Short Film Festival , 2016 (COREA)
Febio Fest, Bratislava 2016 (SLOVAKIA)
dot dot dot short film festival, Vienna 2016 (AUSTRIA)
Liebes Wedding, Filmabend, Berlin 2016 (GERMANY)

PRICES + NOMINATIONS
BEST AUSTRIAN NEWCOMER AWARD at the Vienna Indpendent Shorts 2015
Nomination for Silver Eye Award at Jihlava International Documentary Film Festival, 2016 (CZECH REPUBLIC)
Part of the East Silver Caravan 2016

CREDITS
Writer / Director / Editor / Sound Design: Jola Wieczorek
Camera: Jola Wieczorek, Wiesława Wieczorek
Film Poster: Jordi Oms